Hello MaMa's! I am thrilled to be sharing some inspiration with you today. As an interior stylist, my own home is naturally my style playground and my little girl's bedroom is no exception. Over the summer we completed her room and I shared the results over on my blog Avenue Lifestyle. For those of you looking for ideas for your own little ones' rooms, I sincerely hope you find some here today. Let's peek inside!
Some Background
We bought our home three years ago and have been slowly sprucing it up ever since. A lot happened in the first few months, as it always does, and then the pace slowed down as the initial enthusiasm wore off, as it always does. Though it has taken some time to complete each space (we have done the work ourselves), I have been sharing the results on my blog, which has been a huge motivator to finish each room. I have shared our bedroom last summer, then my studio tour went live a few months ago, I did a studio update more recently and now I am excited we have wrapped up another room and that our sweet Lola loves it every bit as much as we do.
A little bit about this room. Like our bedroom next door, we had to paint each and every surface, rip up tired old vinyl from the floors, revealing original wooden floorboards which we then sanded and painted. We gave the window frames a lick of paint too, and all the while, we were doing THIS kind of thing in our bedroom next door as well as a ton of painting and sanding downstairs too AND organizing a wedding! When I think back to those days, I wonder how we did it. We moms are actually superheroes, right?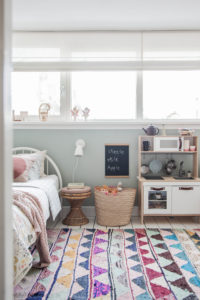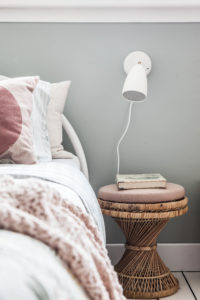 Style
Style wise, I wanted to brighten up the space and bring in some bright pops of colour while keeping it calm at the same time. I wanted Lola to have a fun and playful room but not be too young so she can grow into it. I wanted lots of texture and comfort so the space really beckons her to not only play but also to relax and unwind.
I chose a white base for the upper walls, floors and ceiling, but painted the lower half of the walls in Farrow & Ball's 'Light Blue'. More than two years on, and I am still mad for this color. It's fresh, yet neutral, versatile enough for later on down the road when we might decide to move Lola from this room and make space for another human because it isn't too feminine or masculine. It work's well with bright colors and beautifully with muted tones.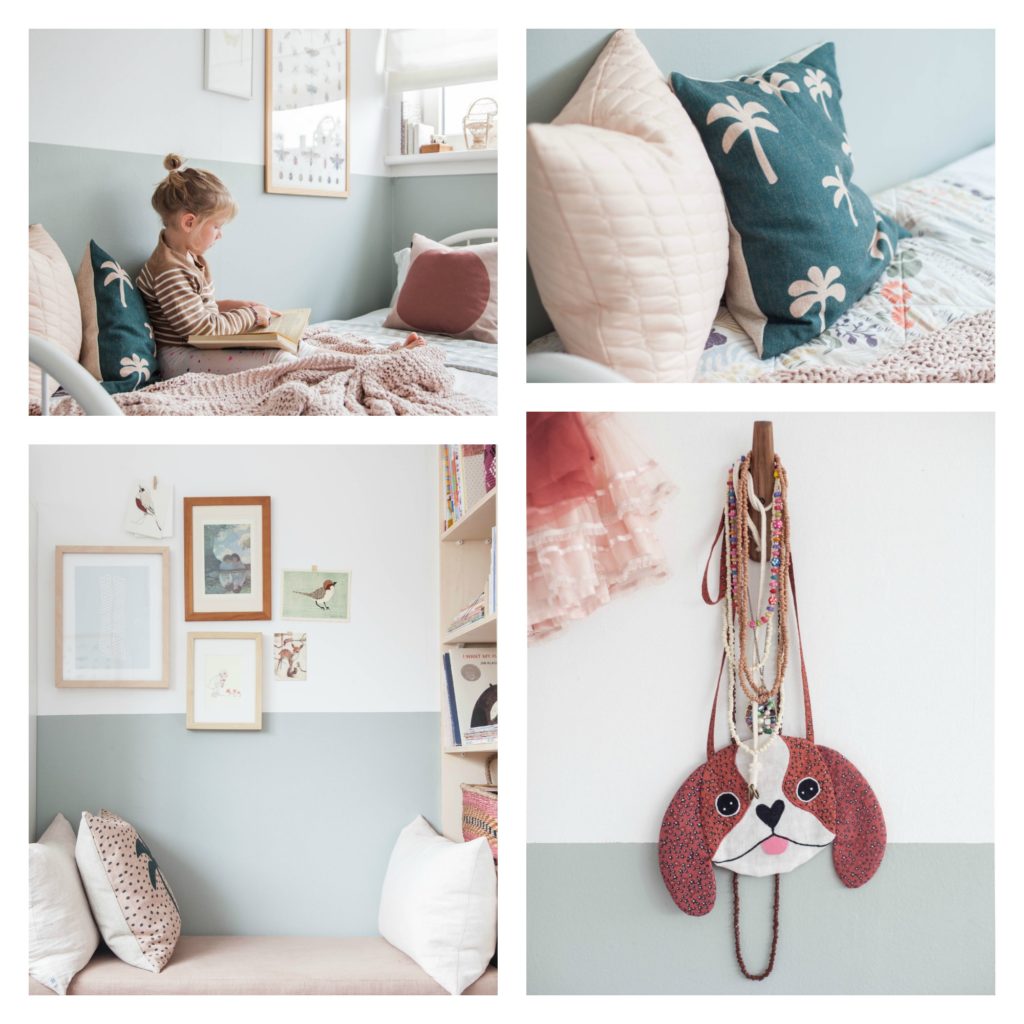 Bed and Textiles
We bought Lola's bed second hand for €20 on Marktplaats and at the time it was bright red. To get the metal frame white, we gave it a light sanding and painted it with radiator paint (radiatorlak), using a roller and a sponge to apply it. It was a tedious job but radiator paint dries fast and applies really well.
Her bed linen is vintage, I picked it up at a second hand shop for €2,75. They are 100% linen, pale seafoam green and in beautiful vintage condition. The top has a very thin stripe and the underside is checkered so I fold the top end over so you see both and it makes my heart happy. The little stool beside her bed was also a vintage steal – I had the seat reupholstered. The floral quilt on the end of her bed is the 'Woodland Meadow' quilt from Schoolhouse Electric. The pillows are by Fest Amsterdam.
Aaahhh look at that photo. Lola is flipping through a book I used to love as a child, called 'The Country Diary of an Edwardian Lady', illustrated with beautiful botanicals through the seasons. It was my favourite book and it makes me so happy to see Lola love it too.
Dress-ups and Toy Storage
The nook at the end of the bed is where Lola transforms into Princess Elsa three times a day. For her fourth birthday we gave her a vintage dress-up box, which I dragged home from an antique shop on the Binnenwatersloot here in Delft. When she opened it up on the morning of her birthday there was a hideously blue and vaguely flammable Elsa dress inside it and we gave all our friends who were attending her birthday party the theme 'dress-ups' as an idea for a gift. By the end of the day the box was filled with goodies and she still plays dress ups every single day. Most of the stuff in there is all worn and tattered by now, and I can tell you now, trying to explain to her that dress-ups are only for when we're at home is another matter altogether…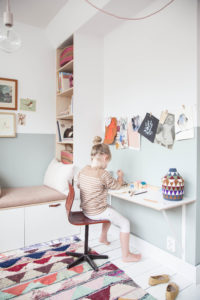 The vintage cupboard at the end of the bed is where we store the bulk of Lola's toys from lego to puzzles and also some of the younger (and less attractive) books that her friends can access easily. The little wooden wall hooks on her wall are from Layer Tree and are used to hang her necklaces and tutu's.
Closet, Desk and Reading Nook
When designing this clothes storage and desk area we had one main challenge to contend with. There are two metal heating pipes which are exposed and run down and along the wall, taking up about 10cm of space. This meant that any piece of furniture we placed against that back wall would never have sat flush against the wall. I wanted to create a built-in reading nook that connects to a wardrobe and bookshelf, with a desk area for her to colour/draw/do homework one day/stare at the wall. I wanted it to be inexpensive and one way to achieve that is to use cost effective IKEA pieces as the base as opposed to hiring a carpenter. But because of the exposed pipes we ran into a few problems. And as much as I would have liked to, putting the pipes into the wall wasn't an affordable option. With a bit of mathematics and a lot of time sifting through the IKEA catalogue, we decided to combine two of their popular lines – Besta + Stuva+ a little bit of our own carpentry.
We used a Besta sideboard along the floor to create the base of the wardrobe and reading bench because each element is 40cm deep and 60cm wide. We then placed a Stuva wardrobe on top of the left-most Besta element because it is 50cm deep and 60 wide. So it basically fit perfectly on top width-wise, but had an extra 10cm behind it to allow space below for the metal heating pipes, but lean flush against the wall from the top of the bench up. Once the Ikea elements were in place, we built a bookshelf to the right using multiplex birch wood. We placed the back panel against the pipes that stick out a bit, and then cut a side panel to size to cover the little gap that left down the right side, and go all the way to the ceiling and sit nice and flush with the wall and ceiling.
We then obviously had a 10cm gap between the wall and the middle Besta units, so we placed a sheet of multiplex on top to hide the gap. I have a fabulous upholsterer Shannon Moyer who made a cushion for on top upholstered in an old rose linen blend fabric, which completed the picture.

I keep Lola's bookcase neat and tidy but not filling the compartments full but spacing the books out, adding some decorative objects and even covering some books in pretty fabric. You might think this is a crazy idea, but she has a LOT of Barbie books and primary colours don't really work in this space. Covering them means they look great in the bookcase and add an element of surprise to story time – you ever know which book it'll be! Exhibit A above. That is a genuine reaction to discovering the book inside the pretty fabric.
To finish off the cabinet fronts I used leather handles in chestnut from Design Studio Nu. You might also know that the door fronts of the Stuva wardrobe from Ikea has a handle cut into it already on one of the doors, so to make it all look uniform, I purchased a second set of doors and used two flat doors and put leather handles on them.
The gallery above the reading nook is a special collection of artworks, vintage postcards and things that I have collected for the last few years.
We built a simple desk using large brackets from the Gamma and a sheet of multiplex cut to size. We painted the desk top and side panel of the bookcase white to blend with the Ikea elements, but left the inside of the bookshelf and edges of the desk unpainted for some contrast.
So that's today's kids bedroom tour! Thank you so much for having me. I hope you enjoyed scrolling through these images and were able to get some inspiration along the way. See the full before and after tour HERE. And if you spotted something you like, here is your shopping list! – Holly
…
Paint colour: Light Blue by Farrow & Ball | Bed linen, toy cupboard, bedside stool: Vintage | Floral quilt: Schoolhouse Electric | Decorative pillows: Fest Amsterdam | Bugs poster: Sissy Boy Homeland | Wooden train with 'Lola' engraved onto it: Ikonic Toys | Bedside sconce: Nordlux | Wall hooks: LayerTree | Floral suitcase (on white cabinet): Merci Paris | White desk lamp: Pomax via vtwonen | String lights: Cotton Ball Lights | Reading bench: IKEA Besta | Wardrobe: IKEA Stuva | Upholstered bench pillow: made to measure by Shannon Moyer/Pheasant Gold | Linen pillows in 'Almond': By Molle |Leather cabinet pulls: NU interieur|ontwerp | Ceiling light: Muuto| Rug: Pink Rug Co. | Play kitchen: IKEA
// Styling and Photography: Holly Marder | Avenue Lifestyle
The following two tabs change content below.
Holly Marder
Holly Marder is an interior designer and photographer living in Delft after falling in love with her Dutch husband while studying in Germany. Alongside designing interior spaces both large and small scale, Holly also photographs interiors for magazines all over the world as well as books. Holly documents her work on her blog Avenue Lifestyle and while juggling this busy work schedule she is also raising a sweet little girl called Lola here in Delft.
Latest posts by Holly Marder (see all)
Comments
comments